Manchester digital agency
The Drawing Room Creative, a Manchester digital agency, your business can benefit from the expertise and unique knowledge of our experienced creatives, technologists, designers and developers.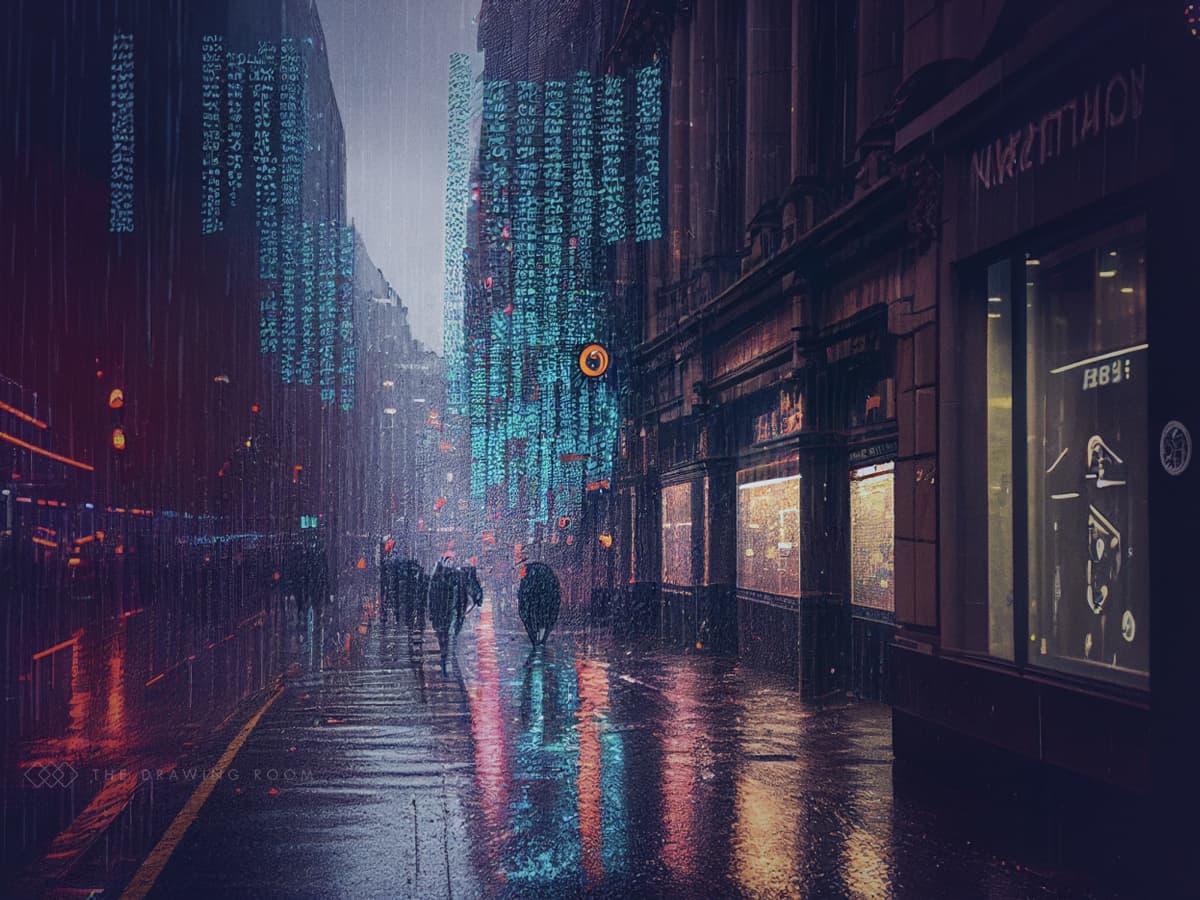 What is a digital marketing agency?
Digital marketing has become a vital tool for companies to reach consumers. As digitalisation and changing consumer behaviour have grown, businesses are shifting from traditional advertising to digital channels, particularly in the UK, which is the largest digital ad market in Europe and a significant spender on digital advertising worldwide.
A digital marketing agency is a specialised agency that helps businesses increase their online visibility by implementing strategies to reach more potential customers. With the ever-changing digital landscape, it can be challenging for a business to keep up with the latest trends and practices. A digital marketing agency can help you stay ahead of the competition by keeping you updated on the latest digital marketing trends and technologies.
Why choose
The Drawing Room Creative

as your Manchester digital agency?

Here at The Drawing Room Creative we offer a range of services to elevate brands online, including digital platform services, website design and development, content marketing, app development and creative design. We help businesses in Manchester and across the globe to create and execute a digital marketing strategy tailored to your specific needs and goals.

By working with The Drawing Room Creative, a Manchester digital agency, your business can benefit from the expertise and unique knowledge of our experienced creatives, technologists, Designers and Inventors who can help you effectively reach and engage with your target audience online. We think big, we think sharp and we think fast to make digital magic happen.

Founded 10 years ago our mission was clear. Be brave. Be exciting. Be the best at what we do. And what we do is make digital magic happen for brands by combining creativity & technology. We create online platforms, brands, digital experiences, ecommerce shops and shop windows that bring our customer's products and services alive, making them desirable… even irresistible.
01
Our ecommerce solutions are the result of thorough research, insights, data, experience, and expertise. Each platform is customised to meet our client's unique needs and goals and optimise the user experience. By carefully planning each project from the start and collaborating closely with clients and SEO agencies, our digital platforms are built with SEO optimisation in mind and ready for implementation as soon as they go live.
The ideal ecommerce framework for your store will be chosen to simplify the purchasing process for customers, making it effortless for them to buy your products/services.
What are the benefits of digital marketing
Timeliness
It allows brands to implement and adjust quickly to reach their target audience with the right message at the right time in the market in real time.
Measurable
Digital marketing efforts can be easily tracked and measured using tools such as Google Analytics. This allows businesses to see the return on investment (ROI) for their marketing efforts and make data-driven decisions.
Specific Targeting
Increased brand awareness and greater customer engagement allows businesses to personalise their marketing campaigns.
Wide reach
It provides a great opportunity for your business to reach a wide audience and promote your products/services.
Search engine optimisation (SEO)
SEO allows you to optimise your website's content and structure to improve its visibility and ranking in search engine results pages.
Why upscale your digital marketing strategy?
Digital marketing has seen significant growth in recent years, with digital ad spending in the UK reaching 15.57 billion and media ad revenue reaching 39.4 billion. This makes it an opportune moment to focus on improving your digital marketing strategy and implementing impactful marketing campaigns to drive sales. As the digital marketing industry is projected to continue its expansion and become even more competitive, investing in and improving your Digital marketing efforts now is a smart move to stay ahead of the competition.
ECOMMERCE TO HIT £4.2 TRILLION IN 2023
UK's ECOMMERCE PENETRATION IS PREDICTED TO REACH 89.6% OF THE POPULATION BY 2025.
4 OUT OF 5 PEOPLE SHOP ONLINE
Go digital and get inspired with these digital marketing examples
We work with national and international brands, SME's, challenger brands and startups. We have developed digital solutions for brands including HSS, NIKE, The Original Factory Shop, Nanu, McLaren F1 and Rift. These are just a few digital marketing examples of the work we have done at The Drawing Room Creative.
Social Media Marketing
Combining our vast experience in creating eye-catching social media creative and our social media management skills, we work directly with our clients to help maximise their social media presence and promote their products and services more effectively. We work across all of the main social media channels, such as Meta, Twitter, Instagram, Linkedin, and TikTok.
Email marketing
Through gaining an understanding of our clients' customer and subscriber database, we work with clients to tailor specific email campaigns to subscribers through either segmented or global lists to help solidify their relationship with their customers. The email campaigns can vary from a simple "welcome" message to regionally targeted exclusive offer emails that help drive up engagement and sales conversion rates.
Content marketing
From regular blog content to tailored creative outputs for readers and subscribers to download and keep, content marketing is all about ensuring that the brand is producing market relevant content for its audience base. We work with our clients to identify core search terms and hot topics to sustain a consistent flow of content outputs, and subsequently help to deliver and create this content, written or visual.
Influencer marketing
As a companion offering to our social media marketing experience, we work with our clients to identify key opportunities for influencers to help stimulate brand awareness and subsequent transactions. Influencers are typically individuals or accounts with a large following on social media channels, and so it's crucial to select the right influencer for your brand's values, and that also resonates with your audience.
Video marketing
Engaging video content is key to helping drive user engagement, and that's why our design team are always striving to produce premium video creative to maximise the opportunities this type of output brings. Ranging from a short 5 second tease campaign for a new product launch to a long-form "Meet the Team" asset, delivering quality video content is a staple of our design services.
Mobile marketing
Our app developers are constantly pushing the limits of technology to create engaging and user-friendly applications that promote regular interaction. We ensure that the apps have a easy to use content management system and a comprehensive reporting dashboard. An example of this is the new The Original Factory Shop (TOFS) App, TOFS Club+, which offers a variety of deals, offers, savings, promotions, loyalty benefits, store information for over 200 stores, and the TOFS Scratch & Win game to all TOFS customers in an easy-to-use, engaging format.
A Manchester digital agency ready to assist you on your digital journey
At The Drawing Room Creative, a Manchester digital agency, we specialise in providing a wide range of marketing solutions through our team of creative, technical, and innovative professionals. Whether you're looking to improve your brand's online presence or launch a new marketing campaign, we have the expertise to help you achieve your goals.
Contact us today to learn more about how we can help your business grow through the power of marketing.
Manchester digital agency FAQS
What is digital marketing
Digital marketing is promoting products, services or brands through electronic media such as the internet, social media, mobile devices, and electronic billboards. It encompasses a wide range of tactics, including search engine optimisation (SEO), pay-per-click (PPC) advertising, social media marketing, content marketing, email marketing, and more.
The goal of digital marketing is to reach and engage with customers where they spend the majority of their time – online. By leveraging the power of the internet, digital marketing allows businesses to reach a global audience and connect with customers in a more targeted and personalised way.
Additionally, digital marketing campaigns can be easily tracked and measured, providing valuable insights into the effectiveness of different tactics and allowing businesses to make data-driven decisions. Overall, digital marketing is essential to any business's marketing strategy in today's digital age.
Digital marketing UK
Digital marketing has become an essential tool for businesses to promote their products and services. As more and more people are turning to the internet and digital devices for everyday activities, companies are shifting from traditional forms of advertising to digital channels. The UK, being one of the largest digital ad markets in Europe and a major spender on digital advertising worldwide, is at the forefront of this transition to digital marketing.
Lets have a chat
We are more than happy to have a no obligation initial conversation to help you scope and define your project.
Discover more of what matters to you