Shopify Plus agency
We design and develop Shopify Plus stores that provide unique, engaging and commercially-viable ecommerce experiences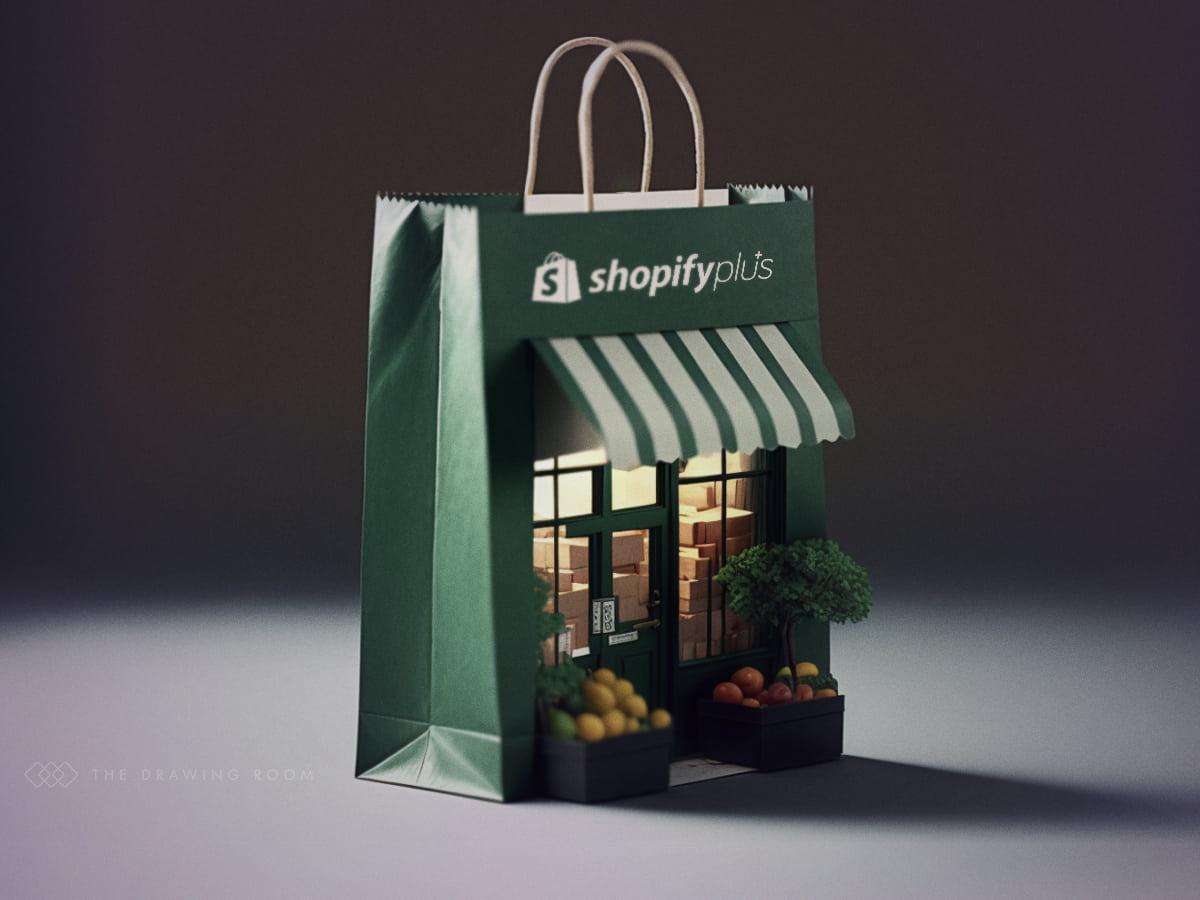 The Drawing Room Creative

is a Shopify Plus agency you can trust

As a reputable and experienced Shopify Plus agency based in Manchester, The Drawing Room partners with brands to design, develop, launch, and optimise Shopify Plus websites for growth. Whether you're looking to upgrade to Shopify Plus or migrate from another platform, our team of experts will consult with you to help you fully leverage its capabilities.

As an ecommerce company grows, it faces increasing complexities. Our agency is well-equipped to support merchants with global strategies for internationalisation and advanced onsite functionality that takes advantage of the power of Shopify Plus.

We design and develop Shopify Plus stores that provide unique, engaging and commercially-viable ecommerce experiences. By blending creativity with the latest technology and working with top Shopify Plus partners, we help merchants deliver scalable, cutting-edge solutions that enhance their products. As one of the leading Shopify agencies, we are ready to support you as a Shopify Plus agency when you're ready.
We are a Shopify Plus agency that specialises in developing and supporting ecommerce stores
As an experienced Shopify Plus Agency, we offer services that blend creative excellence with the most advanced technical solutions. We work with merchants on both full custom Shopify Plus store builds and theme projects and provide support for pre-existing stores. Our expertise and portfolio encompass a wide range of clients, from well-known brands and retailers to start-ups, all leveraging the power of Shopify Plus. Contact us today if you are a retailer looking to drive growth.
Our agency's success is built on the principles of exceptional creativity, state-of-the-art technology and a focus on growth. Whether you're looking to upgrade or migrate to Shopify Plus, get in touch with us today to discuss custom Shopify Plus store builds or support for your current ecommerce strategy.
Shopify Plus makes it easy for businesses to expand into new markets
The global ecommerce industry is expanding, and brands are seeking solutions that can navigate multiple borders and languages. A seamless purchasing experience in a customer's native language is crucial for growth in new locations and can significantly increase conversion rates.
As a Shopify Plus agency, we have developed customised solutions for global brands to effectively scale their offerings, regardless of their global expansion goals. Our expertise in Shopify Plus ensures businesses can enter new markets and reach new customers quickly and efficiently.
Create a store in multiple languages
Shopify Plus allows merchants to create a store in multiple languages and automatically redirect customers to the appropriate language based on their location or browser settings.
Display prices in different currencies
Shopify Plus can automatically display prices in the customer's local currency, making it easier for customers to understand the cost of products.
Accept payments in different currencies
Shopify Plus allows businesses to accept payments in multiple currencies, which can help reduce currency conversion costs and make it easier for customers to purchase.
Create language-specific pages and content
Shopify Plus allows businesses to create different pages and content for different languages, which can help to improve the customer experience.
Why choose Shopify Plus?
Shopify Plus is a solution for large ecommerce businesses, offering advanced tools for improved sales and efficiency. It features exclusive code and apps for driving business growth and meeting customer need not found in standard Shopify.
Our team assists businesses in upgrading or transferring their existing ecommerce site to Shopify Plus, guiding them through the process for a smooth transition.
Shopify Plus enables the handling of complex operations such as automation, shipping, payments, flash sales, retail, and customer mapping, as well as integrating with popular platforms such as TikTok, Instagram, YouTube, email, and Facebook for seamless cross-channel sales.
01
Dedicated Shopify Plus account manager & launch engineer
Shopify Plus provides a personalised, dedicated team for support and guidance in migrating to Shopify Plus efficiently and effectively. A launch engineer will be assigned to your website to guide you through setup/migration and offer ongoing, priority support from a designated account manager. The launch engineer will assist with third-party integrations and finding partners for specific business projects.
02
Enhanced analytical capabilities
Shopify offers a robust analytics dashboard displaying real-time data on sales, top products, landing pages/referrers, customer return rates, and more. But Shopify Plus elevates this by partnering with top analytics firms, offering your store the latest insights and trends.
03
Greater checkout control
As a store owner, offering personalised attention to high-spending customers and their checkout page activities is essential. Shopify Plus gives full access to the checkout page code file, providing finer control and enabling a customised, branded checkout experience with discount-focused functionality.
04
Expanded theme customisation with access to Liquid
Shopify Plus offers merchants access to Liquid, Shopify's theme language, giving them greater control over their website's appearance and functionality. With Liquid, merchants can create a more unique and personalized online store, differentiating themselves from competitors and providing an improved user experience for customers.
Why choose
The Drawing Room Creative

as your Shopify Plus agency

As a Shopify Plus agency, we have extensive experience supporting merchants with diverse and complex ecommerce needs around the world. We have a wealth of expertise in various industries, such as cosmetics, beauty, fashion, apparel, beverage, food, technology and more. Our team combines our Shopify Plus experience, technical knowledge and partnerships to offer our merchants a comprehensive and consultative experience.

We assist in determining the right time for merchants to choose Shopify Plus and provide enterprise-level data analysis, design, product training, and Shopify Plus-specific development skills to be a long-term partner for global brands. If you're considering Shopify Plus, make The Drawing Room your dedicated Shopify Plus agency and contact our expert Shopify Plus team today.
Shopify Plus agency FAQs
What are the advantages of using Shopify Plus for my ecommerce business?
Advanced customisation, scalability, server uptime, security, SEO features, multi-channel selling capabilities.
How long does a project take with a Shopify Plus agency?
Timeline depends on project size, complexity, and customisation. Discuss with the agency for realistic expectations.
How much does it cost to work with a Shopify Plus agency?
Cost varies based on project scope and complexity, and agency pricing. Discuss requirements and budget with the agency for clarity.
What services does a Shopify Plus agency provide?
Store design, development, app integration, performance optimisation, migration, maintenance, support, and strategic consulting for ecommerce businesses.
Lets have a chat
We are more than happy to have a no obligation initial conversation to help you scope and define your project.
Discover more of what matters to you